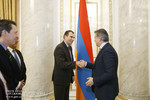 Karen Karapetyan, Alain Pilloux Discuss Armenia-EBRD Cooperation Expansion Prospects
Prime Minister Karen Karapetyan received a delegation from the European Bank for Reconstruction and Development (EBRD), led by EBRD Vice President Alain Pilloux. Highly appreciative of the 25-year-long bilateral cooperation, the Prime Minister noted that EBRD is one of Armenia's key partners. "It is crucial that most of the programs in our partnership portfolio seek to promote private sector competitiveness, and the same logic is placed at the core of the EBRD-Armenia... more »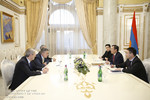 PM Receives China Construction First Group Corporation Deputy CEO
Prime Minister Karen Karapetyan received Deputy Chief Executive Officer of China Construction First Group Corporation Wei Yang. The meeting focused on the possibility for the Chinese corporation to get involved in the ongoing road construction and infrastructure improvement projects in Armenia.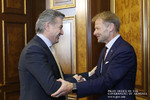 Karen Karapetyan Receives EIB Vice President-Headed Delegation
Prime Minister Karen Karapetyan received a European Investment Bank delegation led by EIB Vice President Vazil Hudak. The meeting was attended by Head of EU Delegation to Armenia, Ambassador Piotr Switalski. The Prime Minister stressed the importance of the Comprehensive and Enhanced Partnership Agreement signed with the European Union in Brussels, which is sure to open up new opportunities for cooperation. The Premier underscored that he attached great importance to cooperation with the... more »
Thursday, 30 November 2017
Georgian Prime Minister's visit to Armenia postponed
At the request of the Georgian side, Georgian Prime Minister Giorgi Kvirikashvili's visit to Armenia was postponed for an indefinite period of time. It will be held after Georgian Parliament has approved the composition of the country's government .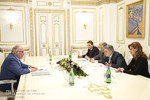 PM Receives Swiss Businessman Who Initiated Investment Program in Armenia's Wine-Making Industry
Prime Minister Karen Karapetyan received Swiss businessman Jakob Schuler who represents Schuler St. Jakobs Kellerei, one of Switzerland's best known wine houses. Already engaged in Rind and Aghavnadzor communities of Vayots Dzor Marz of Armenia, the company is going to make additional investments in order to expand the scope of its activities. Welcoming the Swiss businessman's initiative to invest in Armenia's winemaking industry, Karen Karapetyan expressed readiness for... more »
Thursday, 30 November 2017
Georgian Prime Minister Giorgi Kvirikashvili to Pay Official Visit to Armenia
At the invitation of RA Prime Minister Karen Karapetyan, Georgian Prime Minister Giorgi Kvirikashvili will arrive in Armenia on official visit on December 1, 2017. On the margins of his visit, Giorgi Kvirikashvili will meet with the top leadership of the Republic of Armenia - the President of the Republic of Armenia, the NA Speaker and the Prime Minister. Karen Karapetyan and Giorgi Kvirikashvili will make statements for mass media representatives at the end of their talks. The... more »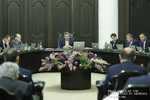 PM Suggests Decriminalizing Low-Risk Economic Crimes
A Cabinet sitting was held today, chaired by Prime Minister Karen Karapetyan. Before proceeding to the agenda, the Prime Minister issued a number of instructions. The Premier's first instruction suggested decriminalizing certain types of economic offences. The Prime Minister instructed the Minister of Economic Development and Investments, the Minister of Justice and the Chairman of State Revenue Committee to develop and submit to the Government Staff within two months draft legal... more »