The territory of the Republic of Armenia is composed of ten marzes (regions) and Yerevan city which is governed by the law on local self-government in the city of Yerevan. Public administration in the marzes is governed by RA President's decree "On public administration in the marzes of the Republic of Armenia" and other legal acts.
Marz governors implement the regional policy of the government. They coordinate the activities of local branches of the executive authority, except as otherwise specified by law.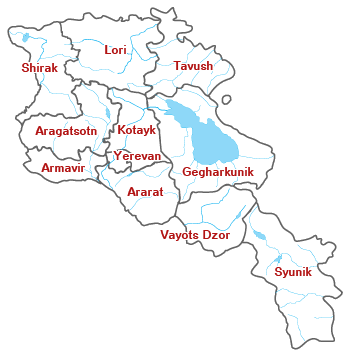 Within the bounds of the authority they are vested with by law, marz governors carry on the government's regional policy in their respective marzes in the following areas: finance, urban development, housing and utilities, transport and road construction, agriculture and land use, education, healthcare, social security, culture and sports, nature and environmental protection, commerce, public catering, and services. Regional policy in the foregoing sectors is carried on by means of marz administrations, as well as through subordinate organizations.

Marz governors coordinate the activities of regional services of central executive authorities in the areas of internal affairs and national security, defense, communication, energy, taxes, emergency situations, civil defense and others.
Marz governors are appointed and dismissed by government decrees.
Such government decrees are subject to ratification by the President of the Republic of Armenia. The office of marz governor is a discretionary one.
Marz governors are accountable to the Government of the Republic of Armenia.