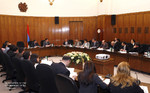 The grants' programs' experimental test guidebook, presented online, was approved.
The regular meeting of the National Youth Policy Council took place today at the Government, chaired by the Chairman of the Board, Prime-Minister Tigran Sargsyan. The vice minister of the Sports and Youth affairs of Armenia, the vice-president of the council Arsen Karamyan presented the grants' programs' online experimental test guidebook. The guideline sets the implementation process of the youth public policy aimed at experts' reviews of the grant programs (the... more »
The head of the government welcomed the participants of the CIS Custom Services' Chiefs' council's 52th meeting.
The Prime Minister Tigran Sargsyan took part at the CIS Custom Services' Chiefs' council's 52th meeting today. The session, held in Yerevan on October 25-27, was attended by the leaders of the CIS customs services and experts. The council, which was created on December 23, 1993, has aimed its activity at the deepening of the economic integration, systemization of the CIS customs services' activities, harmonization of customs legislation and unification of the customs... more »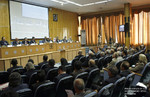 Industrial zone to be set up in Syunik
It is possible that an industrial zone will be set up in Syunik, where the formed companies will have one common goal, to identify the potential that Armenia has in agriculture, light industry and other fields. The Prime Minister Tigran Sargsyan made this statement during the Armenian-Iranian business forum held in Iran on October 26, adding that the creation of such a zone will make the construction works of the railway more efficient as it will be an additional incentive for the private... more »