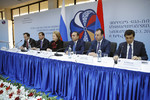 Prime Minister Attends Opening of 4th Armenian-Russian Interregional Conference
Prime Minister Hovik Abrahamyan and RF Federal Assembly Federation Council Speaker Valentina Matvienko attended today the opening of the 4th Armenian-Russian interregional conference at Yerevan Expo exhibition center. The conference is entitled "Armenia-Russia: Eurasian Economic Union: New Prospects for Interregional Cooperation." The forum participants first observed a minute of silence to pay tribute to the passengers of the Sharm el-Sheikh-St. Petersburg flight, who were... more »
Tuesday, 3 November 2015
Ad Hoc Commission Established by Prime Minister's Decision
Based on Paragraph 2, Article 121 of the presidential order numbered PO-174-N of July 18, 2007, Prime Minister Hovik Abrahamyan decided to set up a commission in order to organize the funeral of those Armenian citizens killed in the Moscow-Yerevan bus accident that took place on November 3 in the Tula region of Russia, as well as to provide necessary assistance to the affected citizens and their families. The commission is composed as follows: G. Beglaryan - Minister of Transport... more »
Tuesday, 3 November 2015
PM Hovik Abrahamyan Extends Condolences on Crash of Moscow-Yerevan Bus
I was deeply grieved to learn of the tragic accident that hit the bus en route from Moscow to Yerevan in Tula region of Russia, causing several casualties and injuries to our compatriots. On behalf of the Government of the Republic of Armenia and myself, I express deepest condolences and sympathy to the victims' families, close relatives and wish the wounded a speedy recovery.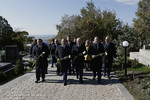 PM Visits Yerablur to Pay Tribute to Ashot Navasardyan's Memory
In this connection with the anniversary of the passing of founder of the Republican Party of Armenia, national political figure Ashot Navasardyan, Prime Minister Hovik Abrahamyan visited Yerablur to pay tribute to and lay flowers at the grave of Ashot Nacasardyan.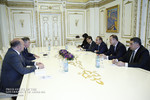 Prime Minister Receives Arkhangelsk and Yaroslavl Governors of Russian Federation
In the sidelines of the 4th Armenian-Russian interregional conference, Prime Minister Hovik Abrahamyan received today Arkhangelsk Governor Igor Orlov and Yaroslavl Governor Sergey Yastrebov. The Prime Minister praised the regional cooperation between Armenia and Russia, highlighting the need for its activation and expansion. Hovik Abrahamyan expressed his government's readiness to support and promote interregional cooperation between Armenia and Russia. Eager to develop... more »