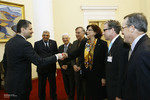 Today the Prime Minister met the members of the international expert advisory body.
Today the Prime Minister Tigran Sargsyan met with the international advisory body of the ALikhanyan National Science Laboratory led by academician Yuri Hovhannisyan, the scientific director of the laboratory of nuclear reactions of the Dubna United Nuclear Research Institute of the Russian Academy of Science. It should be noted that the government of Armenia approved the report on prospective development trends of the "A.I.Alikhanyan Physics Institute of Yerevan", renamed... more »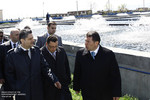 A major progress is expected in the fisheries sector.
Today the Prime Minister Tigran Sargsyan visited "Unifish" fish-breeding company in Ranchpar community of Ararat region. The head of the government toured the company, learned about the implementation process of the water meter installation instructions in the fish-breeding sectors. The Prime Minister was presented the production opportunities of the company, as well as the prospective development programs. After the tour, answering the reporters' questions,... more »