Wednesday, 24 June 2009
Incidences of infringement of your rights by central executive agencies and their local services, as well as by regional administrations may be communicated using a hotline set up within the Office of Government. We can be reached at 527-000 phone number or at hotline@gov.am electronic address.
Wednesday, 24 June 2009
RA Prime Minister Tigran Sargsyan signed a decree to relieve Gagik Gyurjyan of the office of Deputy Minister of Culture of the Republic of Armenia.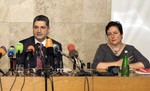 Accompanied by director of educational programs of "Luys" foundation Jacqueline Kara-Aslanyan, RA Prime Minister Tigran Sargsyan today visited the Yerevan State University. During a scheduled meeting, they briefed the students on the objectives of the Fund and the ways it may use to support those Armenian students studying at the top-rate universities of the world. Member of the board of "Luys" foundation, RA Prime Minister Tigran Sargsyan noted that the meeting... more »