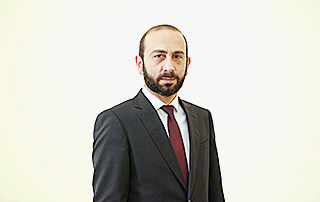 Minister of Foreign Affairs
Ministry of Foreign Affairs
The Republic of Armenia Ministry of Foreign Affairs is a republican body of executive authority, which elaborates and implements the foreign affairs policies of the Republic of Armenia Government and organizes and manages the diplomatic services within the scope of the authority vested in it.
First Deputy Minister:


Deputy Ministers:
Armen Ghevondyan
Vahe Gevorgyan

Address:
0010, Vazgen Sargsyan 3, Yerevan
Tel.:
(060) 62-00-00, 54-40-41, 52-35-31
Fax:
(060) 62-00-62
URL:
http://www.mfa.am
E-mail:

Agencies under ministries
Public Protocol Service
Head: Levon Minasyan
In accordance with the legislation of the Republic of Armenia, the State Protocol Service provides services stipulated in the State Protocol of the Republic of Armenia.
The chief objective of the SPS is to ensure compliance with the State Protocol during ceremonious events attended by the Presidency and the executive authorities.