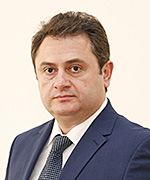 Acting Minister of High-Tech Industry
Ministry of High-Tech Industry
The Ministry of High-Tech Industry is a central body of executive authority that develops and implements the Government's policy in the spheres of communication, information, information technology and information security, postal services, licensing, granting of permits and military industry.
First Deputy Minister:

Deputy Ministers:
David Sahakyan


Address:
Yerevan 0010, Vazgen Sargsyan 3/3
Tel.:
(37410) 59-01-40
URL:
http://www.hti.am
E-mail:

Agencies under ministries
Military-Industrial Committee
Head: -
The State-Military-Industrial Committee under the Ministry of Defense of the Republic of Armenia develops long-term, medium-term and short-term government assistance programs for the military-industrial complex (MIC), State orders for military needs and the order of its formation, develops a summary list of MIC subjects. The State-Military-Industrial Committee is responsible for developing a mapping system and registration procedures for MIC subjects.