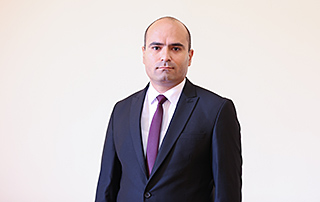 Artur Grigoryan.
Assistant to the Prime Minister
Curriculum Vitae
Date and Place of Birth
July 1, 1984, Ararat town
Education
October - November, 1999, Cambridge - Yerevan sister cities association, USA, Massachusetts, student exchange program
2001-2006, Yerevan State Institute of Economy, diploma with honors, economist, qualification -Insurance
2006 - 2009, Armenian State University of Economics, PhD Postgraduate course
2009, Candidate of Economic Sciences, specialty - F .00.03, Finance, Money Transfer and Credit (thesis: Mortgage Credit Insurance Problems in the Republic of Armenia)
2010 - 2011, University of Applied Sciences, International Alumni Center, Master of European Studies in Public and Private Management (English), Bremen, Germany (Full EU Scholarship)
2015 - 2016, Strasbourg University, International and European Law, Master's Degree 1 (French), Strasbourg, France
Work Experience
2006, Armswissbank CJSC, Assistant Executive Director
2007-2008, Washington Capitol UCO CJSC, Credit Specialist
2008, Armimpexbank CJSC (Ameriabank CJSC), Head of Credit Cards Division
2009-2013, Yerevan Gladzor University, lecturer (taught bachelors and master's degree students on financial and economic subjects, mastered the master's thesis and various student works)
2012, Institute of Economics and Management, invited lecturer
2012, National Institute of Labor and Social Research, Ministry of Labor and Social Affairs, Invited Lecturer
2012-2013, RA NA Deputy Assistant (in combination)
2013-2014, Novitech Language Center, Head of Educational Projects Department, including Educational Tourism Coordinator (Moscow, Russia)
2014, National Institute of Labor and Social Research, Ministry of Labor and Social Affairs, Invited Lecturer
2017- 2018, Anelik Bank CJSC, Passive and Commissial Products Development Specialist
2018-2019, Universal MCCANN LLC, media planning and controller
2019-2020, Assistant to Deputy Prime Minister Tigran Avinyan
June 16, 2020, Assistant to RA Prime Minister
Other Information
He attended a number of events in Armenia, Germany, the Netherlands, Belgium, France, Russia, Ukraine, and Latvia within different local and international programs (youth, educational, scientific, employment).
During the years of postgraduate study, he presided over the Student Scientific Society. He participated in various interuniversity, interuniversity, republican, international student conferences, competitions, holding competitions (more than 30 diplomas, certificates, certificates), and during his career he has participated in numerous (more than 100) retraining courses, webinars, discussions, seminars and engaging in self-help, including online international platforms.
He has been awarded four nominal scholarships four times a year, two of them from the Central Bank of Armenia (Isahak Isahakyan Scholarship), 1 from Yerevan State Institute of Economics (founder rector, professor Vladimir Nerkaryan) and 1 Russian-Armenian Business Cooperation Association (Scholarship student nominal scholarship).
He has 2 international qualifications as an educational agent (ICEF Trained Agent Counsellor (2013) and British Council Education UK Trained Agent (2014)). He has published scientific articles since his student years (up to now, number 14).
Has received a general professional qualification in the securities market with all the rights and privileges derived from it (Decision 284A of the Central Bank Board dated September 18, 2007), certificate No. 0270, issued on 19.09.2007.
He received the qualification of Chief Accountant, Deputy Chief Accountant of the Credit Organization (Decision No. 1/966 A dated 23.07.2007), Certificate No. 0103, 23.07.2007 - 24.07.2010.
Scope of scientific interests: finance (public / private / corporate, financial, fiscal and monetary), investments (indirect and direct, domestic and foreign, securities / capital markets), industry (including military industry and high tech industries) international cooperation (Israel, US, EU and Eastern Partnership, UK, Southeast Asia), Armenian diaspora and international organizations (including financial), political philosophy, Public awareness and the technology revolution (including economic, linguistic, cultural and technological) models, food and social security, marketing, advertising and social networks, digital technologies (including blokcheyn and kriptoarzhuytner), statistics, etc.
Fluent in Armenian, English, Russian, French.
Political Affiliation
Non-partisan
Marital Status
Married, has one child.