Sunday, 22 March 2020
Armenian Red Cross Society to provide monthly and quarterly food and hygiene packages to 1400 citizens
In cooperation with the RA Ministry of Labor and Social Affairs, the Armenian Red Cross Society will provide monthly and quarterly food and hygiene supply packages to 1400 needy citizens of the Republic of Armenia. The beneficiaries are basically single and elderly people with disabilities, including Syrian-Armenian refugees and hostel residents.
Saturday, 21 March 2020
List of goods allowed for transportation between Armenia and Iran expanded
The Ministry of Economy of the Republic of Armenia reports that the list of exceptions in freight turnover between the Republic of Armenia and the Islamic Republic of Iran has been expanded. Due to the need to identify additional goods to be transported as part of humanitarian assistance and the procedure for their transportation, the Government Decision of 24 February, 2020 has been amended to authorize the freight of goods of economic importance between the two countries.... more »
Saturday, 21 March 2020
Statement by the Spokesperson of the Foreign Ministry of Armenia on the situation at the Upper Lars checkpoint
We reiterate that according to the decision of the Government of Georgia, foreign nationals, including the citizens of Armenia, cannot enter the territory of Georgia, including through the Upper Lars checkpoint. The Upper Lars checkpoint is open exclusively for cargo transport, as well as to Russian and Georgian citizens returning to their homeland from the Russian Federation and Georgia respectively. Additionally, in the result of negotiations with our Russian and Georgian... more »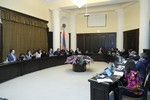 Commandant's Office Holds Regular Meeting
The Commandant's Office today held a regular meeting, chaired by Deputy Prime Minister Tigran Avinyan. Addressing those present, Tigran Avinyan said: "We are holding another meeting of the Commandant's Office. First of all, I want to congratulate our colleague, Foreign Minister Mr. Zohrab Mnatsakanyan on his birthday. Mr. Mnatsakanyan, I would like to thank you and all the staff of the Ministry of Foreign Affairs, our ambassadors, diplomats for highly qualified... more »
Friday, 20 March 2020
COVID-19 Open Bank Account Update
The Ministry of Finance of the Republic of Armenia informs that as available since March 17, 2020, the treasury account 900005001947, referred to as "Financial assistance to the state from individuals and organizations with a view to preventing the spread of coronavirus (COVID-19)," had been credited AMD 321167610.6 as of 18:00, March 20, 2020. The total number of money transfers is 1355.
Friday, 20 March 2020
One-month food supply available to 4041 single elderly persons
With the support of the Ministry of Labor and Social Affairs, one-month food supply will be made available to 4041 single elderly persons in the Republic of Armenia. Mission Armenia and the German Red Cross Association today launched a program to provide the elderly with essential food. Mission Armenia will provide food to 1934 people in Yerevan and to some 1892 people in the provinces. The German Red Cross Association will provide one-month food supply to 215 single elderly... more »
Friday, 20 March 2020
CHARTER FLIGHT TO YEREVAN
On March 25, 2020, a Ukrainian carrier is organizing a charter flight Kiev-Yerevan-Kiev. Tickets are available for sale on the company's website. Note that according to the Commandant's Directive, citizens of the Republic of Armenia and members of their families, as well as persons legally residing in the Republic of Armenia, are allowed to enter the territory of the Republic of Armenia without restrictions. Upon arrival in the Republic of Armenia, all passengers... more »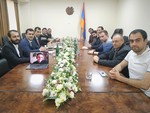 Thursday, 19 March 2020
Armenian IT specialists to model the possible spread of COVID-19
A research group involving analysts, information technology and artificial intelligence specialists, and other experts has been set up to collect and analyze data on the spread of coronavirus (COVID-19) and compare it with that of international partners. Minister of High-Tech Industry Hakob Arshakyan met with specialists of group to discuss upcoming steps and opportunities. The group is expected to use modern technology to identify the root causes behind the disease, explore... more »
Thursday, 19 March 2020
Continued home care services shall be provided to elderly people
The Ministry of Labour and Social Affairs of the Republic of Armenia us drafting electronic lists of single pensioners consisting only of pensioners of families, persons with mobility and vision problems, including families with minor children. The needs of these citizens will be assessed within a three-day period, and assistance will be provided in domestic issues, if necessary. A procedure has been developed for activities aimed at protecting vulnerable people (families) and those... more »
Thursday, 19 March 2020
COVID-19 Open Bank Account Update
The Ministry of Finance of the Republic of Armenia informs that as available since March 17, 2020, the treasury account 900005001947, referred to as "Financial assistance to the state from individuals and organizations with a view to preventing the spread of coronavirus (COVID-19)," had been credited AMD 121,175,406.2 million as of 18:00, March 19, 2020. The total number of money transfers is 688. Note that to make donations, those individuals or organizations located... more »