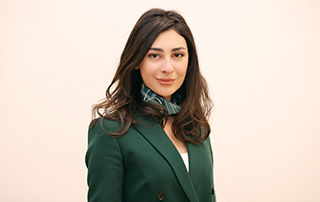 Shushanna Kostanyan
Assistant to Deputy Prime Minister
Curriculum Vitae
Date/place of birth
April 9, 1999, Armavir city
Education
2015-2019 - G.V. Plekhanov Russian University of Economics, Faculty of Management (Diploma of Excellence)
2019-2021 – Russian-Armenian Slavonic University, Master's Program in "Strategic Management"
Work experience
2020-2021 - Private entrepreneur in the field of tourism
2020 - 2021 - Expert of the Development, Tourism and Analysis Department of Armavir Regional Administration
January – July, 2921 - Lecturer at the Yerevan branch of G.V. Plekhanov Russian University of Economics
December 15, 2021 – Appointed assistant to Deputy Prime Minister of the Republic of Armenia H. Matevosyan
Other information
Has been a business consultant since 2019. During this period, a number of successful business startups and programs have been created with her direct consultancy.
Entered the London Business School in September, 2021, where she takes a course in digital marketing.
Implemented the "Colors of Armavir" program in 2020-2021, which stimulated the development of tourism in Armavir Province.
Studied at the Leadership School in 2019-2020.
Was awarded with the title of "Best Student" of the Plekhanov Russian University of Economics in 2018.
Won the 3rd place in the "Scientific Approach" category of the All-Russian Scientific Essay Competition, presenting the essay "Success in the Modern World".
Presented reports at a number of academic conferences.
Has authored numerous scientific articles.
Party affiliation
Non-partisan
Personal information
Single