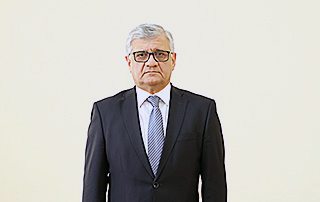 Armen Ghularyan
Chairman of Urban Development Committee
Curriculum Vitae
Date and Place of Birth
September 25, 1954, Idjevan town
Education
1971-1976 - Yerevan Polytechnic Institute after K. Marx, Architecture Department, qualification of architect
Career Experience
1976-1980 - Idjevan regional council executive committee, head of architectural unit group
1980-1988 - Chief architect of Idjevan region
1988-1990 - Armenia CP Idjevan regional committee, head of Industry, Construction and Transport Section
1990-1996 - Acting head of Idjevan municipal council executive committee
1996-1999 - Mayor of Idjevan town
1999-2014 – Tavush Marz Governor
2014-2016, Deputy Minister of Urban Development of the Republic of Armenia
2016-2018, Deputy Chairman of the Government-affiliated State Committee on Urban Development
2018-2021, First Deputy Chairman of the Urban Development Committee
On January 27, 2021, he was appointed Chairman of the Urban Development Committee of the Republic of Armenia

Other Details
Colonel to RA Armed Forces, he was awarded with the following State decorations: Anania Shirakatsi, Fridjoff Nansen medals and RA Prime Minister's commemorative medals. He is holder of several thanks messages. He is member of the Armenian Union of Architectures.
Party Membership
Non-partisan
Personal Status
Married, father of two sons.