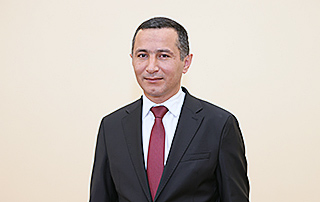 Robert Ghukasyan
Marzpet
Curriculum Vitae
Date and Place of Birth
December 27, 1980, Sumgayit
Education
2002-2007, Armenian State Pedagogical University after Kh. Abovyan, Faculty of Biology
Work Experience
2002, Kalavan Municipality, Staff Secretary
2013-2019, Founding Director of Time Land Foundation
2017-2018, Chambarak Municipality, Assistant to Community Leader, Adviser
2019-2022, Adviser to the Prime Minister
On March 3, 2022, appointed to the post of Syunik Marz Governor
Other Information
2004-2018, Attended international expeditions as archaeologist (Armenia, UAE, Oman, Germany)
2008, Training in Lyon, France
2009-2010, Scientific research in Tübingen, Germany. He has authored over 30 scientific articles. In 1998-2000, he served in the Armed Forces of the Republic of Armenia. He is fluent in Armenian, English, Russian. On September 21, 2017, he was awarded a medal of gratitude.
Political Affiliation
Non-partisan
Marital Status
Married, with 2 children