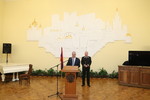 Monday, 10 February 2020
Mher Grigoryan attends gala event on Russia Diplomat Day
Deputy Prime Minister Mher Grigoryan today attended a ceremonious event dedicated to Russia Diplomat Day at the RF Embassy in Armenia. The Deputy Premier delivered congratulatory remarks. He congratulated Ambassador Extraordinary and Plenipotentiary of the Russian Federation to Armenia Sergey Kopyrkin and the Embassy staff on their professional holiday, and wished them every success in their responsible activities.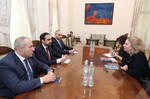 Monday, 10 February 2020
Tigran Avinyan Receives Council of Europe Armenia Office Head
On February 10, Deputy Prime Minister Tigran Avinyan received Council of Europe (CoE) Armenia Office Head Natalia Voutova. Tigran Avinyan stressed that the CoE is among Armenia's key partners in promoting democratic values, human rights, and the rule of law. He referred to the 2019-2022 CoE-Armenia Action Plan, which was launched last year and is seen as an important milestone on the way to developing relations. Natalia Voutova briefed the Deputy Prime Minister on the main areas... more »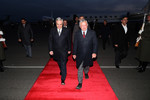 Mher Grigoryan Welcomes King of Jordan
Deputy Prime Minister Mher Grigoryan went to Zvartnots International Airport to meet King of the Hashemite Kingdom of Jordan, His Majesty Abdullah II bin Al-Hussein, who has arrived in Armenia on an official visit at the invitation of RA President Armen Sarkissian.