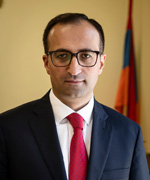 RA Minister of Healthcare
In office since
12 May 2018
Ministry of Healthcare
The Republic of Armenia Ministry of Healthcare is a republican body of executive authority, which elaborates and implements the policies of the Republic of Armenia Government in the healthcare sector.
Deputy Ministers:
Sergey Khachatryan
Arsen Davtyan
Anahit Avanesyan
Lena Nanushyan
Sergey Khachatryan
Address:
Government Building 3, Republic Square, Yerevan 0010
Tel.:
58-24-13
URL:
http://www.moh.am
E-mail:

Standalone Units and State Agencies
Licensing Agency
Head: Karen Kostanyan
The Licensing Agency of the Ministry of Healthcare of the Republic of Armenia carries out licensing, license restructuring and renewal, suspension and termination activities in the fields of pharmaceutical industry, pharmacy, medical care and services. The Agency provides permits for implementing the same activity at another location, as well as grants permission to advertise medicines, medical equipment, and therapeutic methods. The Agency is responsible for the development and enforcement of regulatory legal acts in accordance with the legislation of the Republic of Armenia.
National Healthcare Agency
Head: Caghik Vardanyan
The State Health Agency provides health services in the state-guaranteed free medical care and services under contracts with health care practitioners from the actual disbursement of funds for the work done in providing targeted public health programs through the state medical care and services provided by the state budget for efficient and effective use of financial resources.