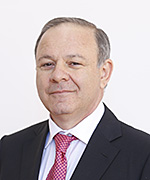 RA Minister of Healthcare
In office since
27 September 2016
Ministry of Healthcare
The Republic of Armenia Ministry of Healthcare is a republican body of executive authority, which elaborates and implements the policies of the Republic of Armenia Government in the healthcare sector.
Deputy Ministers:
Sergey Khachatryan
Tigran Sahakyan
Samvel Margaryan




Address:
Government Building 3, Republic Square, Yerevan 0010
Tel.:
58-24-13
URL:
http://www.moh.am
E-mail:

Standalone Units and State Agencies
National Healthcare Agency
Head: Caghik Vardanyan
The State Health Agency provides health services in the state-guaranteed free medical care and services under contracts with health care practitioners from the actual disbursement of funds for the work done in providing targeted public health programs through the state medical care and services provided by the state budget for efficient and effective use of financial resources.
State Health Inspectorate
Acting Head: Samvel Purtoyan
The Republic of Armenia Ministry of Healthcare-affiliated State Health Inspectorate implements Ministry of Healthcare-entrusted supervisory functions. Acting on behalf of the Republic of Armenia, the Inspectorate may impose sanctions for breach of healthcare, work safety and labor legislation standards and provisions.