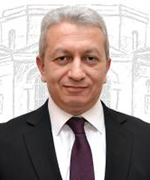 RA Minister of Finance
In office since
12 May 2018
Ministry of Finance
The Republic of Armenia Ministry of Finance and Economy is a republican body of executive authority, which elaborates and implements the policies of the Republic of Armenia Government in the areas of fiscal revenue collection, public finance administration.
First Deputy Minister:
Karen Brutyan

Deputy – Chief Treasurer:

Deputy Ministers:
Armen Hayrapetyan
Karen Tamazyan
Arman Poghosyan

Address:
1 Melik-Adamyan, Yerevan 0010
Tel.:
011-800-156
E-mail:

Standalone Units and State Agencies
«National Depository of Precious Metals and Precious Stones» Agency
Head: Vahe Araqelyan
The State Depository of Precious Metals and Stones Agency provides reserve formation, replenishment and management services for precious metals, precious stones and articles made thereof.
Financial-Budgetary Oversight Inspectorate
Head: Arman Zargaryan
Under its terms of reference and as specified by law, the Financial Control Inspectorate implements control functions. If necessary, the Inspectorate submits recommendations to the Minister of Finance on how to address the risks stemming from its findings.
Inspectorate for Control of Licensing Terms and Requirements
Head: --
The Inspectorate for Control of Licensing Terms and Conditions performs supervisory functions in the manner prescribed by law concerning the activities subject to licensing by the Ministry of Finance of the Republic of Armenia.
Licensing Agency
Head: Senik Vardanyan
The Licensing Agency grants licenses for services related to the management, auditing and encashment of casinos, lotteries, gambling and internet gambling facilities, as well as registers those legal persons engaged in activities subject to notification. The Agency carries out preparative work for the meetings of licensing commissions and ensures the implementation of such functions as may arise from the findings of licensing commissions.
Price Research and Analysis Agency
Acting Head: Vahe Tshughuryan
The Price Research and Analysis Agency carries out price research, analysis and data publication activities for building materials, structures and products procured for public needs, as well as for other products purchased by the State. The Agency also performs the function of calculation and publishing of price indices in the sphere of construction.