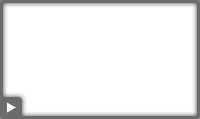 Prime Minister attends the "IT outsourcing and investment" international IT conference
Official e-mail
(only for notifications sent in www.e-citizen.am system)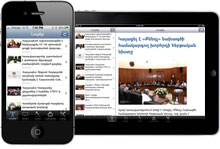 Hotline
Person responsible for freedom of information
+374 (10) 527-000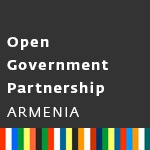 26.08.2016
Chaired by Prime Minister Hovik Abrahamyan, the SME Development Support Council held today a regular meeting in the Office of Government.
After hearing the reports on implementation of the decisions taken at the latest meeting, the Council proceeded to the agenda, which featured issuance of country of origin certificates for goods manufactured in Armenia, certain Tax Code provisions... more »
25.08.2016
A regular Cabinet meeting was held today, chaired by Prime Minister Hovik Abrahamyan.
The Government decided to earmark 15 million drams from its reserve fund to carry out the following activities in Vagharshapat town of Armavir Marz: repair the gym roof and the damaged windows and doors in School No. 7; build a football stadium and a cinder-track as part of the newly built sports... more »
24.08.2016
Prime Minister Hovik Abrahamyan sent a telegram of condolences to Italian Prime Minister Matteo Renzi on the devastating earthquake that caused death and destruction.
Hovik Abrahamyan expressed his deep condolences and sympathy to the families and friends of the victims and wished the injured a speedy recovery.
24.08.2016
Chaired by Prime Minister Hovik Abrahamyan, a consultative meeting was held with brandy, wine producers' representatives in the Office of Government.
The meeting discussed grapes procurement and prospects for the development of wine-making industry. Reporting on the procurement process, Minister of Agriculture Sergo Karapetyan said his Ministry is working with processing... more »
Urgent Issues: Dear citizens of the Republic of Armenia, site-visitors and guests. This very block of the Government of Armenia official web-site contains permanently changeable and updated information. The most urgent and demanding themes and questions will be displayed in a separate page on our web-site. All the documents which may arise your interest and which are a number one issue in our everyday work, can now be thoroughly examined by you. Moreover, you'll be able to gather information on activities, strategic planning and time-table of the specific projects that Government needs to implement. Thank you for your attention and time.

1) Priority tasks for 2016
2) Republic of Armenia Government Program
3) e-Governance
www.e-gov.am website provides Republic of Armenia public agencies' e-government tools and databases. Under this initiative, "Interactive Budget" and "SNCO Financing" sections are available for the first time. You can also find the decisions passed by the Government and the Prime Minister, the agenda of the next cabinet sitting, information on the procurements made to a single supplier, the electronic tax reporting system, the online application system of the Intellectual Property Agency, the information search system of the Intellectual Property Agency, as well as the Electronic Signature and Electronic Visa (e-visa) sections.