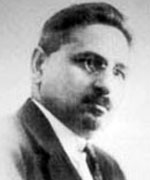 Simon Vratsyan
Curriculum Vitae
"I am sure that with your and country's help it will be possible to come out with honor from this awful conditions."- said S. Vratsyan on his appointment day talking to the parliament.
Like Qajaznuni, Vratsyan also tried to create multiparty government; unlike the first prime minister the last one was able to create coalitional government.
The number one issue for the government was to remove the country from the "whirlpool" and to create peaceful combination with neighbor counties. Although these and other issues remained unsolved by the government, the life of the government was very short.
On December 2 of 1920 the power changed in Armenia: the Bolsheviks came to power, Armenia became Soviet: the Soviet government was followed by Armenian RevCom, supported by the Red Army. Then the incident of February 18 happened.
The committee of "Country Savior" was created under Vratsyan's lead.
During February rebellion the Bolsheviks were losing for some time. The Committee was able to stabilize the situation. The struggle between the Dashnaks and the Bolsheviks continued.
On April 2 the Red Army was in Yerevan: The Bolshevik artillery sounded from Qanaqer's height. The government and the army left the city.
"Shooting the last bullet, Armenian soldiers, the government and those who refused to abide with loss of independence of the country on July 10 went through Araxes and entered Persia taking with them the flag of independent Armenia to continue the ideological struggle for their country's independence." – tells Simon Vratsyan: the last prime minister of the first republic who was in power only for 8 days.
He had studied at Gevorgyan seminary in Etchmiatzin. In 1911-1913 had edited "Hayrenik" newspaper in USA. During World War I had participated in the creation of volunteer groups. In 1918 had been elected as a member of Transcaucasia Seim, the following by Parliament membership. During Ohanjanyan's power he had been the minister of agriculture and labor.
He died far away from homeland in Beirut in 1969, always having in mind the image of independent Armenia.