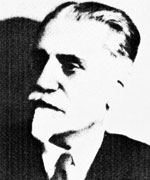 Hamo/Hamazasp/ Ohanjanyan
Curriculum Vitae
After Khatisyan's resignation new government was appointed. ARF came to power, in the lead of Hamo Ohanjanyan. This government was called bureau-government. The new government announced that the country was in danger. As Simon Vratsyan pointed out Armenia was at that time "between Bolsheviks' hammer and Kemalian flag".
Ohanjanyan's government was trying to calm the rebellions without bloodshed and wanted to avoid civil fights, but seeing that the efforts were in vain, the government used force against rebels. In two weeks all the rebellions were stopped in the country. May manifestations grew into Bolshevik rebellions, which were stopped. The nest step would be the liberation of places where Turks lived.
On February 8 the Transcaucasia Palace started operating in Yerevan. Changes were made in tax policies. In summer of 1920 several proposals were made by Armenian and foreign rich people.
An important work was being done in ministries agriculture and state property.
The government confirmed academic Al. Tamanyan's and painter Kojoyan's project of national coat of arms.
At last during Ohanjanyan's tenure the Act of Citizenship of Armenia was confirmed.
On August 10th the treaty of Sevres was signed and United Armenia was being created, a dream of centuries, was trying to become true during this government.
It was during this time when Levon Shant's delegation went to Moscow to negotiate with Chicherin. Shant reported to Yerevan that the Armenian-Russian treaty was ready. Russia announced her readiness to recognize Armenia's independence and not to interfere into Armenia's internal affairs.
The signing of the treaty was postponed. Chicherin wrote to Armenian government to move the negotiations to Yerevan. The prime minister announced that he would not mind it. In October the draft of the treaty was ready, with which the Soviet Russia was recognizing the independence and sovereignty of Armenia: Armenia included Zangezur and the Karabakh and Nakhijevan would remain autonomous.
By fighting in two fronts the efforts of the government were in vain. By signing the tough truce the government lost its prestige in the people's eyes. Every side demanded Ohanjanyan's government's resignation.
On November 23 Hamo Ohanjanyan's staff resigned: "New times begin, new situation in political powers...my staff resigned by taking into accounts the merits of the country" – said Ohanjanyan talking to the parliament.
The parliament chose the new prime minister. Simon Vratsyan became the last prime minister of the first republic