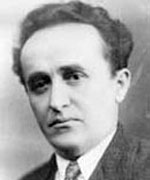 Sahak Ter-Gabrielyan
Curriculum Vitae
Born in Shushi 1886. "The young, active boy from Shushi, having left the school unfinished, threw himself into the city of oil and involved himself in the revolution at the age of 14.
Shahumyan in Community entrusted him with everything that was important at the time" – tell about him his contemporaries.
In 1920 he was a member of Revolutionary Committee. In 1921, he was permanent representative of Armenia in Moscow. He felt a duty to take care of all the needs of Armenia, for the country to recover soon. He was close to Aghasi Khanjyan and Maxim Gorki. When Gorki was in Armenia he stayed in Sahak Ter-Gabrielyan's house.
During his tenure new industrial branches were created.
Hard times fell on Ter-Sargsyan's lot: those hard days of collectivization. Several village revolutions took place at that time, which made the work of the government more difficult.
As a person he was not needy, humble, but at the same time he had a fighter's character.
He also became a victim to Stalin's violence. He had the courage to oppose the promotion of Lavrenti Beria as the head of Transcaucasia Federation in 1931 when Stalin was present. It was obvious that such attitude would not be ignored and would get appropriate response.
According to "official summary" in August of 1937 Stalin was informed that Ter-Gabrielyan, who was under arrest, had committed suicide by jumping out of the third floor's window.
Ter-Gabrielyan's revolutionary name was "Ter" (Master). So the real heads of the country were being sacrificed during Stalin's years, when he was trying to change the powerful army of individuals into "herd".