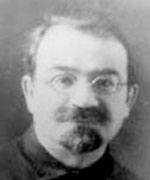 Sargis Hаmbardzumyan
Curriculum Vitae
He was born in 1870 in Shushi and died in 1944. He was said to be a professional revolutionary.
He studied in Moscow University in medical faculty. In 1918 he was imprisoned after the capture of Shushi. In 1921 he was the minister of health of ASSR.
During S. Hambardzumyan's tenure the first stage of economic revival of Armenia ended, during that time several hydroelectric stations were built including first and the second ones in Yerevan and Leninakan's one.
In 1927 the construction of hydroelectric station in Dzoraget began.
Copper mines in Zangezur and copper foundries in Alaverdi were restored. S. Hambarzumyan was in head till 1928.