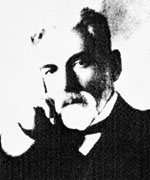 Hovhannes Qadjaznuni / Igitghanyan/
Curriculum Vitae
Born in 1868 H. Qajaznuni graduated from Petersburg's 1868թ. Institute of Civil Engineers, in 1914 worked in Nation Bureau, in 1918 was a member of Transcaucasia Seim. The first prime minister Qajaznuni wanted to create inter-party government, in spite of that it was formed mostly by Dashnaks.
Members of the government
A. Khatisyan – minister of foreign affairs (Dashnaktsutyun)
A. Manukyan – minister of internal affairs (Dashnaktsutyun)
Kh. Karchikyan – minister (Dashnaktsutyun)
H. Hakhverdyan – military minister (nonparty member)
G. Ter-Petrosyan – minister of justice (nonparty member)
Qajaznuni presented the directions of government activities: "Our government has come into power in exceptionally hard time... The government has no lever in the past, it does not follow the previous government to continue the political work in progress", said Qajaznuni.
Clearly noting the spheres of activities the government embarked on its proposed implementation plan. "Slowly we have started to recover. Constructions have begun, food distribution, although not enough, but has stabilized, schools have been opened."- told Simon Vratsyan.
In spite of that all the situation of people in Armenia remained very tough: there was no food. Prime minister Qajaznuni offered to the council of Armenia to turn to ally countries like USA to fight the hunger. The council entrusted the prime minister to go to Europe and USA to find the solution to the problem. During those hard days the prime minister was able to give the solution to Armenia's problem by bringing back 300 thousand bags of flour, a lot of crops and canned products.
Hovhannes Qajaznuni wrote about himself afterwards: "As an eastern man I liked dreaming and thinking. I have been incurable romantic and at the same time an awful skeptic. As a writer I have written from here and there. As a philosopher I have thought a lot on unsolvable issues."
Other prime minister later kept roll-call with him: the 8th prime minister of the 3rd republic Vazgen Sargsyan: he often remembered with sadness how "because there were no wagons" in Armenia the government of Armenia were not able to come back to Armenia from Tbilisi, then the government could not find cloth for the flag and had to import it from abroad.
Qajaznuni's tenure lasted till August 1919. In the same February, a decision was made to send him to USA as the acting body Alexander Khatisyan replaced him.
Qajaznuni's literary legacy is of big interest too. Having close connection to his contemporary literature figures and literary life he wrote memoirs about them.
His memoirs about Tumanyan are notable: honest, full of love. After the establishment Soviet order Qajaznuni moved to Romania, Bucharest. But in 1924 returned to Yerevan and after many years in 1937 was arrested. He died in 1938 in prison.
So the first prime minister became a victim of violence, leaving after him a painful road which was bound to pass several prime ministers of the 2nd republic.