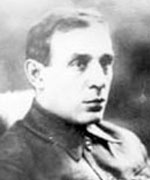 Sargis Lukashin /Srapionyan/
Curriculum Vitae
Born in 1883 in Nor Nakhijevan. Was the president of the Council in 1922-25
He studied in the faculty of law of Petersburg University. During the February revolution he was chosen as the president of military committee.
In 1918-21, he headed the Don region. In 1921-22 was secretary of ACP Central Committee. At the same time he was the ASSR People's Economic Committee president.
When Lukashin took the job of Committee Council president, the country still was in serious condition: economy was completely torn, and his first job was the country's economic recovery and operating the industrial enterprises. Without the energy resources industry, obviously, could not work, so Lukashin embarked on the establishment of Armenia's energy base: in 1923 he began the construction of hydro power plants. First Hrazdan river hydro power plants were built in Yerevan, the construction ended in 1926, when Lukashin was no longer the prime minister.
During Lukashin's tenure the immigration continued, which had began during Myasnikyan's activity. Mainly people transported to homeland from the Middle East, the Armenians living in Mesopotamia.
Lukashin's life also ended tragically. He belongs to the generation of politics who became the victim of Stalin-Yezhov-Beria created low environment. This generation of devotees stated with maniacal hatred "enemy of people" and "extermination" mostly during the progress of creative forces, leaving after them great work.
Lukashin was announced as "anti-state politician", "pro-oppositionist" and in 1937 he was shot dead.