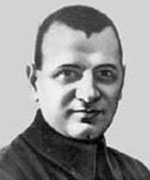 Alexandr Myasnikyan
Curriculum Vitae
Born in Nor Nakhijevan. He was not only a military party activist, but also a scholar. His revolutionary and literary nickname was Martuni. He studied at Lazaryan seminary, graduated from Moscow University, faculty of Law.
In 1905 participated in the all-Russian strike in October and December armed Rebellion. Took part in World War I, in 1917 after the February Revolution he was elected as a committee member of the military front, and created a Bolshevik self-organization.
He used to organize party and administrative activities in Belarus (first secretary of Communist Party). He was first secretary of Moscow city and region committees.
When the Red Army occupied Yerevan and Revcom led by Kasyan had lost its authority, Miasnikyan was sent from Moscow to Caucasus. He had brought Lenin's letter.
The leader demanded "...more slow, more careful, more systematic transfer: this is what is possible and needed. We must try to improve significantly the villagers' situation and engage in great works of electrics and watering."
Taking over the government of Soviet Armenia, pursuing more moderate and constructive policy, having by him bright and patriotic people, Miasnikyan gave the chance to Armenian people take a breath and to pursue creative work. During his tenure the bright minds who were banished from Armenia returned leaded by Al. Tamanyan.
Miasnikyan was the head until 1922, when the Trans-federation was created; there too he had high positions. Miasnikyan is one of our prime ministers, who were closely connected to people and to the literature and writings the people created. He edited around ten newspapers, was close to Charents and to other bright minds, wrote a number of literary articles.
Miasnikyan's life ended tragically in 1925 he was flying to Sukhumi to be present on the Congress of Abkhazia Committee with Atarbekyan and Mogilevski. The plane did not get to Sukhumi, it burned in the air. All three of them died. There are opinions that it was organized and one of the organizers was Lavrenti Beria, who was able to accuse a number of politicians and thinkers in "trotskizm, enemy of people and antievolutionist" and usually signed the verdict himself.
From the first days of Soviet Union, Ulianov Lenin wrote to his favorite Koba (Stalin) and Zinovyev: "We should encourage terror and its massive nature". His aides followed his orders exactly, creating environment of death and fear during congresses, one of the victims of which became Miasnikyan.