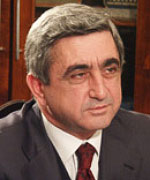 Serzh Sargsyan
Curriculum Vitae
Date and Place of Birth
June 30, 1954, City of Stepanakert, Mountainous Karabagh
Education
1971-1979 Philological Dept, Yerevan State University
Career Experience
1979-1988 Head of Stepanakert City Committee Division of the Young Communist Union ("LKEM"), Second Secretary, First Secretary, Head of Propaganda and Agitation Division of the Stepanakert City Communist Party Committee, Assistant to the First Secretary of the Mountainous Karabagh Marz Committee
1989-1993 Chairman of the Republic of Mountainous Karabagh Self-Defense Forces Committee
1990-1993 Member of the RoA National Assembly
1993-1995 Minister of Defense of the RoA
1995-1996 Head of RoA National Security Department, later, RoA Minister of National Security
1996-1999 RoA Minister of Interior and National Security
1999-1999 RoA Minister of National Security
1999-2007 Secretary of the National Security Council adjunct to the RoA President
2000-2007 Minister of Defense of the RoA
From April 4 to June 7, 2007 - RA Prime Minister.
On June 7, 2007 - He was re-appointed as RA Prime Minister to head the new government cabinet, formed as a result of the parliamentary elections of the Republic of Armenia.
Other Information
Service in the Soviet Army. Holder of the title of Hero of Artsakh, awarded Battle Cross, Tigran the Great and Golden Eagle orders and other State awards. He is president of the Armenian Chess Federation and the Yerevan State University Academic Board.
Party Membership
He has been member the Republican Party of Armenia since 2006. In the period from July 2006 to November 2007, he was the chairman of the RPA political board. In November, 2007, he was elected to be chairman of the Republican Party of Armenia.