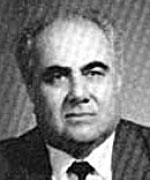 Vladimir Margaryants
Curriculum Vitae
Vladimir Margaryants was born in 1934, in Yeysk town of Krasnodar region.
He was the last Prime Minister of the Armenian SSR. Agronomist by profession, he used to work with M. Gorbachev in Krasnodar region. This factor was believed by many to be behind his appointment as head of government in time of hardship for the country when the Artsakh movement was on the rise leading to the deportation of the Armenians from Artsakh.

During the 1989 plenum of the Central Committee attended by N. Ryzhkov and over a dozen ministers from the Center, V. Margaryants was appointed as the first minister.
Like his predecessor, V. Margaryants had to deal with the reconstruction of the earthquake zone.
V. Margaryants did not get to work too long: the Third Republic was rising from the ashes of the Soviet Union which was being disintegrated: people stood up for their rights as old institutions proved increasingly non-functional.
Parliamentary elections were held in 1990. The Armenian National Movement (HHSH) won the elections. The parliamentary majority formed a Vazgen Manukyan-headed cabinet of ministers. The Third Republic of Armenia was born late in the 20th century.
The 13th and last prime minister of the Soviet Armenia, V. Margaryants continued in duty all the way through the "silky" revolution after which the premiership was handed over to the first Prime Minister of the Third Republic in a very civilized manner.