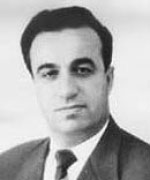 Anton Kochinyan
Curriculum Vitae
Born 1913 in Vahagn village of Lori marz.
He graduated from the Yerevan Communist Agricultural School. Had no higher education, but was endowed with a natural mind and profound vision.
He first worked as journalist, then as editor. Was first secretary of Komsomol /1939-1941/.
Anton Kochinyan is one of few ones who, for a considerably long time, more than 13 years worked as the president of Ministers Council. He was aware of national, political secrets, knew well how to speak to the Center, to neighbors, and even to subordinates individually.
His tenure coincided with Khruschev's "meltdown" years and several changes occurred not only in economy, but also in ideology. Khruschev was trying to limit the activities of the party and do give more space to the executive bodies.
During Anton Kochinyan's tenure, Arpa-Sevan underground aqueduct started to be built in Armenia.

The idea to build a metro in Yerevan belongs to Anton Kochinyan, and then it was implemented by Karen Demirchyan.
There is an interesting story: When V. I. Brezhnev came to Armenia on the way to Yerevan the cars were caught in a traffic jam. "The city has grown and cannot do without a metro" Kochinyan said to Leonid Ilyich. Leonid Ilyich did not reject the offer of the skilled leader.
Anton Kochinyan's signature stands beside Yakov Zarobyan's one under the decision of building the atomic electro station, the decision should have helped with the growing demand of energy in Armenia.
The 53-year-old President of Ministers Council, who had managed the Executive body for 13 years, in 1966 became the first secretary of ACPՀ, leading Armenia for 12 more years. In 1974 he had to leave his post because of "serious gaps in his management". They say, for long years, until his death in 1989 he often went to national archives and read the documents he had signed. He read and profoundly smiled. Let's not forget that the monument for the Genocide victims was built during his tenure.