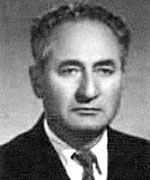 Sahak Karapetyan
Curriculum Vitae
Born in 1906 in Armavir village of Armavir marz. Physiologist by profession, he was the author of numerous scientific works and many scientific innovations mostly for agricultural means, animal reproduction, and reproductional functions. Also worked as the secretary of ACP Central Committee and as the minister of foreign affairs of /1944-1947/.
During his tenure large immigration took place and also one of the most painful incidences for soviet people, the deportation in 1949, more than 12 thousands of Armenians were deported to Altai.
The Soviet economy was progressing as planned by 5 years project.