Thursday, 7 October 2021
Deputy Prime Minister Mher Grigoryan receives Director for Neighbourhood East, DG Neighbourhood and Enlargement Negotiations Lawrence Meredith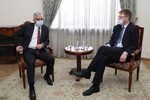 Deputy Prime Minister Mher Grigoryan received Lawrence Meredith, the Director for Neighbourhood East, DG Neighbourhood and Enlargement Negotiations (DG NEAR), European Commission. The meeting was also attended by the Head of the EU Delegation, Ambassador Andrea Wiktorin, Head of the European Investment Bank Regional Office for the South Caucasus Maciej Czura, Head of the European Bank for Reconstruction and Development Armenia office Dmitry Gvintadze.

At the beginning of the meeting, the interlocutors highlighted the working discussion on the €2.6 billion assistance package to be provided to Armenia under the EU Economic and Investment Plan, held in the Government on October 6, stressed the need for concrete steps to implement the proposed programs.

Deputy Prime Minister Mher Grigoryan presented to the EU partners the priority projects within the framework of the programs proposed by the Government, which referred to the North-South highway, support to SMEs, access to education, development of the city of Yerevan. The Deputy Prime Minister highlighted the involvement of the EU in the implementation of reforms in these key areas, including in terms of the opportunity to use the EU best practices.

The parties agreed to meet in Brussels next month to discuss the implementation process of the agreements reached.