Thursday, 7 October 2021
Deputy PM Mher Grigoryan receives US Ambassador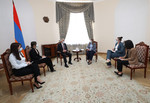 Deputy Prime Minister of Armenia Mher Grigoryan received Ambassador of the USA to Armenia Lynne Tracy.
Greeting the Ambassador, the Deputy PM assessed the meeting as a good opportunity for discussing issues of bilateral agenda and presented the development process of the Government's operational plan for 2021-2026.
In this context, both sides stressed the importance of organizing discussions with all Armenia's development partners on the operational plan in the near future.
During the meeting the interlocutors also exchanged views on the prospects of developing cooperation in a number of areas of mutual interest.