Friday, 17 September 2021
Deputy Prime Minister Mher Grigoryan participated in the event dedicated to the 20th anniversary of the establishment of the Competition Protection Commission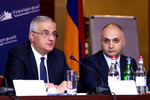 Deputy Prime Minister Mher Grigoryan participated in the event dedicated to the 20th anniversary of the establishment of the State Commission for the Protection of Economic Competition, where he delivered welcoming remarks.

Congratulating the Chairman of the Competition Protection Committee and the staff, the Deputy Prime Minister noted that the development and implementation of competition legislation and policy are one of the cornerstones of dynamic economic development for each country.

Mher Grigoryan also stressed that the formation and continuous improvement of the competitive environment is the pillar of macroeconomic policy implementation, which ensures favorable conditions for business, as well as for the promotion of SMEs.

''It's over one year that all countries in the world have faced global challenges related to the spread of Covid-19, which is a serious threat to human life, as well as to the stability and development of economies.

I have to emphasize that in such conditions, the role and activities of competition bodies are of particular importance, particularly, in terms of preventing possible anti-competitive actions and manifestations of unfair competition in the markets of social importance, as well as for the protection of the interests of consumers'', Deputy PM Mher Grigoryan said in his speech.

Summing up, the Deputy Prime Minister once again congratulated the entire staff of the Competition Protection Commission and wished further fruitful work for the benefit of the Republic of Armenia.