Sunday, 4 July 2021
Acting Deputy Prime Minister Tigran Avinyan's Congratulatory Message to U.S. Secretary of State Antony Blinken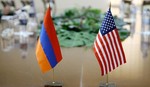 Dear Mr. Secretary,
I would like to extend to you my heartfelt congratulations on Independence Day.
The 4th of July has always been not just a celebration, but also a day of remembrance, a day when millions of Americans honor the sacrifices made on the way to freedom and liberty. It was this spirit that led the American people to forge partnerships with other nations, to uphold their aspirations for better future.
In few months Armenia and the United States will mark the 30th anniversary of diplomatic relations and in this context I'd like to express my appreciation for the continuous support provided to our young democracy by the United States government over the course of last three decades. The set of shared values will continue to be the bedrock upon which our relationship is anchored.
The United States has always been an important partner for Armenia in the security related matters. The commitment on behalf of the United States to fulfill its role as an OSCE Minsk Group Co-chair is extremely important particularly now when we are still facing consequences of the last year massive use of force in the context of Nagorno-Karabakh conflict.
We look forward to your renewed efforts towards just and comprehensive settlement of the Nagorno-Karabakh conflict based on the well-known principles particularly equal rights and self-determination of peoples within the format of the OSCE Minsk Group Co-Chairmanship.
The United States became home for hundreds of thousand Armenians who sought refuge after the Armenian Genocide. In this regard, the recognition of the Armenian Genocide by the President Biden on April 24 this year in addition to earlier resolutions of the US Congress immensely serves to the cause of historic justice, truth and prevention of genocides all over the world.
The COVID-19 pandemic has taken a heavy toll world-wide, and has particularly affected both our countries. We salute your administration's efforts in organizing an effective vaccination campaign within United States and your contribution to the global vaccination effort.
Let me once again congratulate you on your Independence Day and wish you and the fellow people of America a joyous holiday.