Tuesday, 2 March 2021
Mher Grigoryan Receives Netherlands Ambassador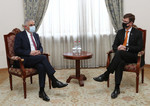 Deputy Prime Minister Mher Grigoryan today received first-ever Resident Ambassador of the Kingdom of the Netherlands to the Republic of Armenia Nico Schermers.
Welcoming the Ambassador, the Deputy Premier appreciated the fact that the Netherlands has inaugurated its resident embassy in Armenia and expressed hope that the Ambassador's presence in Armenia will allow intensifying contacts and relations between the two countries. Thankful for the reception, the Ambassador assured that he would make every effort to develop the Armenian-Dutch relations.
Mher Grigoryan presented the internal situation in Armenia following the war unleashed by Azerbaijan, highlighting the humanitarian and socio-economic problems. He noted that the Government has implemented a number of measures to alleviate the situation.
The preconditions for boosting economic exchanges between Armenia and the Netherlands were discussed during the meeting. The Deputy Prime Minister singled out agriculture as a prospective area of cooperation, and in this context, weighed in on Armenia's investment potential as an EAEU-member state.
Reference was made to the EU-Armenia Comprehensive and Enhanced Partnership Agreement (CEPA). In this context, the Deputy Prime Minister reported progress in implementing those strategies developed on the basis of the CEPA. The parties discussed the ongoing judiciary reform and the furtherance of interaction in that direction.