Wednesday, 3 March 2021
Mher Grigoryan Meets with World Bank Regional Director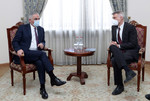 Deputy Prime Minister Mher Grigoryan today met with World Bank (WB) Regional Director for the South Caucasus Sebastian Molineus. The meeting was attended by WB Yerevan Office Head Sylvie Bossoutrot.
The Deputy Premier thanked the Bank for supporting Armenia during this difficult period and for their readiness to co-finance the program of assistance intended for war-affected Artsakh-domiciled families. He briefed the guests on situation established following the war, as well as on the Government's efforts aimed at tackling humanitarian and social-economic problems.
Mher Grigoryan referred to the interim results of those measures taken by the Government to mitigate the global pandemic's socio-economic impact. The interlocutors discussed prospects for expanding Armenia's cooperation with the World Bank and exchanged views on the regional developments.