Wednesday, 28 April 2021
Tigran Avinyan Attends Innovative Solutions for SDG Implementation in Armenia Program Board Meeting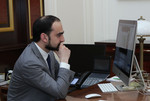 On April 28, Acting Deputy Prime Minister Tigran Avinyan attended the Innovative Solutions for SDG Implementation in Armenia Program Board meeting, which was held via video conference.
Addressing the event in his capacity of Board Co-Chairman, the Acting Deputy Prime Minister noted that the Armenia National Sustainable Development Goals (SDG) Innovation Lab is the only and first of its kind national center, co-founded by the Government of Armenia and the UN Permanent Mission. The center was established with the Russian Federation's financial support, becoming a model for UNDP in its drive to set up similar hubs in 60 countries across the globe.
Tigran Avinyan noted that the Center has become the Government's key partner in the field of innovation by responding quickly and flexibly to emerging challenges, including the global pandemic, the Artsakh war, and the Government's reformulated priorities. He stressed that as part of the Agenda-2030, in view of its commitments to other UN-member states, Armenia has undertaken to implement the proposed 17 Sustainable Development Goals. Accordingly, strictly focused on inclusive and sustainable growth, comprehensive development of human capital and anthropocentric approaches, Armenia's development vision is fully consistent with this commitment.
The Acting Deputy Prime Minister noted that the Center is viewed as a liaison between the Government, the UN, the private sector and the academic circles in implementing the SDGs. He stressed that the Government tends to attract funding from various sources to ensure the implementation of new projects.
The meeting was attended by UN Resident Coordinator in Armenia, Board Co-Chair Shombi Sharp, Acting UNDP Resident Representative in Armenia Michaela Stoikoska, representatives from the Russian government and embassy, the RF-UNDP Targeted Development Fund and others.
The results of the Innovative Solutions for SDG Implementation in Armenia Program were presented and summed up during the meeting, which also discussed the prospects for program continuation and the steps to take ahead.
Supporting Armenia in its commitment to the Sustainable Development Goals in 2018, the Center has provided the Armenian government with innovative tools in a number of areas, including tourism, healthcare, tax administration, environment, etc., as well as assistance in developing evidence-based policies and service delivery.