Monday, 8 March 2021
Deputy Prime Minister Tigran Avinyan's Congratulatory Message on International Women's Day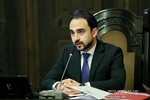 Dear women,
Congratulations on this nice holiday which ushers in the arrival of spring. It is an opportunity to express our love and gratitude for the fairer sex, especially appreciating the invaluable contribution made by our mothers, wives and sisters in our lives.
I would like to express my special respect and homage to our mothers who offered the Homeland what they held dearest of all, their children. We owe you an eternal debt, which we must remember every day and act with that in mind.
I wish all women infinite happiness and robust health along with striving to ensure full participation of women in public life, protection and promotion of their rights for building back better and shaping a bright future.