Friday, 15 January 2021
Working Group discusses progress in assistance programs for Artsakh people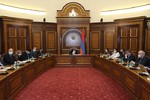 Deputy Prime Minister Mher Grigoryan chaired a regular sitting of the working group on humanitarian disaster response in Artsakh.
Opening the sitting, Mher Grigoryan reported back the results of the already approved assistance programs and further action. Afterwards, the Minister of Labor and Social Affairs, who was invited to the sitting, reported on the implementation of the ongoing programs. The Adviser to the President of the Artsakh Republic presented the feedback received from beneficiaries.
In conclusion, Deputy Prime Minister Mher Grigoryan instructed the relevant departments to continue focusing on the implementation of support programs, responding to current issues, and submitting proposals for new measures.