Sunday, 3 January 2021
Armenian, Russian government delegations meet in the Office of Government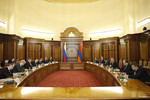 The Armenian and Russian government delegations met today in the Office of Government, co-chaired by RA Deputy Prime Minister Mher Grigoryan and RF Deputy Prime Minister Alexei Overchuk.
Addressing the meeting, Deputy Prime Minister Mher Grigoryan thanked the Russian side for supporting the efforts aimed at restoring normal life in Nagorno-Karabakh.
The participants in the meeting explored ways of deepening cooperation between Armenia and Russia in the fields of economy, energy, transport and infrastructure.