Saturday, 21 November 2020
Armenian, Russian deputy prime ministers hold meeting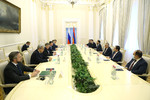 Deputy Prime Ministers of the Republic of Armenia Mher Grigoryan and Tigran Avinyan received the members of the Russian government delegation, led by RF Deputy Prime Ministers Alexey Overchuk and Alexey Novak. The meeting was attended by RA Minister of Territorial Administration and Infrastructure Suren Papikyan.
The Armenian side thanked the Russian government for its efforts to establish a ceasefire, as well as for active participation in measures to counteract and neutralize the humanitarian crisis in Artsakh. The sides discussed in detail the program for restoring normal activities in Artsakh and organizing safe and dignified repatriation of displaced persons.
The meeting participants discussed a number of issues related to transport, energy and business.