Friday, 9 October 2020
Mher Grigoryan receives EDB Management Board Chairman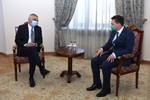 Deputy Prime Minister Mher Grigoryan received Eurasian Development Bank (EDB) Management Board Chairman Nikolay Podguzov.
The main vectors of EDB activities and possibilities for enhanced cooperation with Armenia were discussed during the meeting.
The Deputy Premier noted that the Armenian government welcomes the Bank's initiatives and the Digital Initiatives Fund's activities in our country.
Thankful for the meeting, Nikolay Podguzov invited the Deputy Prime Minister to participate as a keynote speaker in the First Eurasian Congress to be held on December 4, 2020.