Monday, 18 May 2020
Deputy PM Attends World Economic Forum Meeting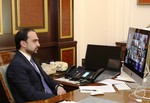 On May 18, Deputy Prime Minister Tigran Avinyan attended the online meeting of the World Economic Forum's Europe and Eurasia Group.
The meeting discussed the strategies of governments and businesses aimed at overcoming the economic crisis caused by the novel coronavirus, as well as the emerging challenges in global and regional value chains.
Addressing the meeting participants, Tigran Avinyan said all countries are facing a public health crisis and the COVID-19 is going to be a problem for a long time. Introducing Armenia's strategy on overcoming the crisis, he said the restrictions helped us gain some time, get adapted to the situation and boost the healthcare system's capacity.
After easing the restrictions, the government imposed new stringent rules and guidelines for the economy and public behavior in this new situation. The Deputy Prime Minister said the crisis has prompted the government to implement drastic reforms, especially in the field of digital technologies. Touching on development opportunities for the digital economy, digital governance and digital society, Tigran Avinyan presented Armenia's experience in this sphere.