Thursday, 19 March 2020
Armenian IT specialists to model the possible spread of COVID-19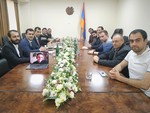 A research group involving analysts, information technology and artificial intelligence specialists, and other experts has been set up to collect and analyze data on the spread of coronavirus (COVID-19) and compare it with that of international partners. Minister of High-Tech Industry Hakob Arshakyan met with specialists of group to discuss upcoming steps and opportunities.
The group is expected to use modern technology to identify the root causes behind the disease, explore statistics on people's movement, the affected areas and collect other information to model potential scenarios of coronavirus proliferation that could go a long way towards facilitating the operations of health infrastructures.
Hakob Arshakyan expressed confidence that the activities of the research group would help get accurate information on the situation, which in turn may promote better coordination and management of preventive action. The Minister emphasized the importance of individual efforts of each specialist in the realization of this joint project.
The group's activity areas, the needed resources and operation deadlines were discussed during the meeting.
The project was launched on the initiative of the Armenian Ministry of High-Tech Industry.