Wednesday, 20 November 2019
Mher Grigoryan meets with State Minister of the Artsakh Republic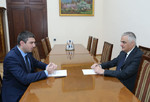 Deputy Prime Minister Mher Grigoryan today met with State Minister of the Artsakh Republic Grigory Martirosyan.
The Deputy Prime Minister attached importance to the ongoing cooperation between the two Armenian republics and its continued development.
The interlocutors discussed issues related to the planning and implementation of strategies on the two Armenian republics' agendas, the planned reforms, as well as the common approaches to the implementation of joint programs.