Friday, 7 February 2020
Mher Grigoryan Receives EBRD Vice President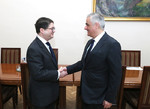 Deputy Prime Minister Mher Grigoryan received an EBRD (European Bank for Reconstruction and Development) delegation, led by EBRD Vice President for Policy and Partnership Pierre Heilbronn. Prior to the meeting, the Deputy Prime Minister had attended the signing of the Meghri Border Checkpoint Modernization loan and grant agreements with the EBRD.
Welcoming the guests, the Deputy Prime Minister appreciated the ongoing cooperation between the Government of Armenia and the European Bank for Reconstruction and Development. He highlighted the Bank's involvement in the private sector, stressing the importance of EBRD-supported programs, which seek to develop the capital market, introduce new energy-saving and alternative energy facilities, and promote SME activities.

Thankful for the reception and the ongoing constructive cooperation, the EBRD Vice President reminded that the Annual Meeting of the EBRD Board of Directors will be held in Yerevan in 2021. He added that they were looking forward to having the Government's support in organizing the event at the highest possible level. Pierre Heilbronn outlined the steps needed for providing effective implementation of joint projects and expressed hope that the infrastructure-related projects would specifically promote the Government's reform agenda.