Thursday, 12 December 2019
Tigran Avinyan Receives Lithuania Ambassador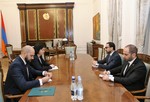 On December 12, Deputy Prime Minister Tigran Avinyan received Lithuanian Ambassador to Armenia Inga Stanytė-Toločkienė.
Welcoming the guest, Tigran Avinyan expressed confidence that the Ambassador's activities would impart a strong momentum to the Armenian-Lithuanian cooperation.
Thankful for the reception, Inga Stanytė-Toločkienė assured that she would spare no effort in order to upgrade the relations between the two countries. Stressing that the Armenian-Lithuanian interaction had intensified since the Velvet Revolution, she said Lithuania us ready to provide technical assistance to facilitate the reform process in Armenia.
Mindful of developing trade and economic relations, Tigran Avinyan highlighted the activities of the Armenian-Lithuanian intergovernmental commission, which is due to meet next year in Vilnius. The Deputy Prime Minister spoke about the reform strategy in the field of public administration, which is under development. In this context, the parties touched on the process of digitizing public services, which is coordinated by the Office of the Deputy Prime Minister.
Taking into account Lithuania's positive experience in this field, Tigran Avinyan expressed interest in exploring opportunities for cooperation. The parties discussed ways of promoting mutual investments, information technologies, renewable energy and waste management. Reference was made to the possibility of launching direct air flights between Yerevan and Vilnius.