Wednesday, 27 November 2019
Tigran Avinyan received U.S. Ambassador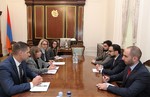 On November 27, 2019, Deputy Prime Minister Tigran Avinyan received U.S. Ambassador to Armenia Lynne Tracy. The meeting was attended by USAID Armenia Mission Head Deborah Grieser.

Highlighting the need for continued development of the Armenian-American relations, Tigran Avinyan appreciated the U.S. government's support for the reforms implemented in our country. The Deputy Premier noted that the first session of the U.S.-Armenia strategic dialogue was a serious step on the way to giving a new status to the ongoing bilateral cooperation.

Ambassador Lynne Tracy said the U.S. Government supports the democratic and economic reforms underway in Armenia, as well as Armenia's anticorruption agenda and its participation in regional security initiatives. Evoking the 40% increase in the U.S. assistance to Armenia this year, she assured that her country will continue to assist the Armenian government with its priority reform programs.
During the meeting, Deborah Grieser introduced the projects being implemented by the USAID in Armenia. The interlocutors discussed a range of issues of mutual interest relating to public administration reforms, high technologies and justice.
Concerning the digitization process, Tigran Avinyan noted that the Government plans to digitize the overwhelming majority of public services within a period of about 3 years.