Wednesday, 11 December 2019
Tigran Avinyan Attends Seminar on Armenia's Technological Potential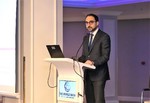 On December 11, Deputy Prime Minister Tigran Avinyan attended a World Bank-hosted seminar, referred to as "Realizing the Technological Potential of Armenia."

Tigran Avinyan delivered a speech, in which he stated:
"Honorable Mr. Molineus,
Dear Sylvie,
Dear Colleagues,
Ladies and Gentlemen,
I am pleased to attend this seminar on the development of Armenia's technological potential.
We can say with confidence that in the 21st century, as in previous times, economic progress will be largely determined by the level of technological development. In this regard, the World Bank's report on Armenia's high-tech potential and our opportunities in the world market is an important document, which should be studied in detail by relevant state agencies, business entities, universities and experts.
The Fourth Industrial Revolution provides breakthrough development opportunities for both large and small nations. The Industrial Revolution is characterized by a number of advanced technologies, the names of which are now on everyone's lips: artificial intelligence, biotechnologies, robotics, the Internet of objects, etc. These technologies are already redrawing the world's economic structure: success will come to those countries and societies that will use these opportunities more reasonably in order to defy the emerging challenges.
We are confident that today Armenia boasts all necessary prerequisites to become a country of high-tech industry - from education to research and development, from development and production of high technologies to international sales and application in various spheres of economy and life.
The average annual growth in the ICT sector has been 26-27% in recent years, which makes it one of the fastest growing sectors of Armenia's economy. In order to stimulate this growth, the Government declared the high-tech sector as a priority and set up the Ministry of High-Tech Industry, which is actively developing its activities in line with the Government's vision.
On the way to gaining a solid niche in the global value chain and making a technological breakthrough, numerous actions are being implemented: from creating a favorable tax field to increasing the volume of public-private partnership programs, developing infrastructure, research and education.
A number of programs that promote the development of a high-tech ecosystem in Armenia are being implemented jointly with our partners and international financial institutions. A successful example is the Trade Development and Infrastructure Quality program, implemented jointly with the World Bank, which seeks to strengthen the Government's ability to stimulate exports through local and foreign investments.
An engineering city is being set up in Yerevan under this program. Refurbishment projects for the National Venture Fund, Supercomputer Center, Cyber Security Center and Gyumri Polytechnic Institute are expected in the future.
I am confident that by creating effective partnership relations with international partners, scientific community and business circles, we will be able to turn Armenia into a leading technological hub."