Friday, 29 November 2019
Tigran Avinyan received representatives of CITIC Construction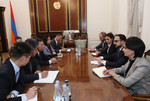 On November 29, 2019, Deputy Prime Minister Tigran Avinyan received a delegation led by CITIC Construction (China) Vice President Yang Jianqiang. The meeting was attended by PRC Ambassador to Armenia Tian Erlong.
The possibility of building a copper smelter in Armenia with the use of modern technology was discussed during the meeting, including the project's technical, logistical, financial and consumer market-related aspects. Tigran Avinyan stressed the importance of abiding by the highest environmental standards and the need for a smooth transition from ore exports to metallurgy.
Yang Jianqiang expressed interest in other investment opportunities in Armenia. The parties agreed that the Chinese side will be provided comprehensive information about it and decided to start a more substantive discussion on the project of copper smelter plant.