Wednesday, 27 November 2019
Tigran Avinyan receives EU delegation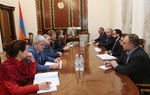 On November 27, 2019, Deputy Prime Minister Tigran Avinyan received Lawrence Meredith, Director for Neighborhood East and Institutional Capacity Building at the European Commission. The meeting was attended by Head of the EU Delegation to Armenia, Ambassador Andrea Viktorin.
Tigran Avinyan highly valued Armenia's close cooperation with the EU and attached importance to the development of multifaceted relations with the European Union. In turn, Lawrence Meredith assured that the EU will continue the support the reforms underway in Armenia.
At the guests' request, Deputy Prime Minister Avinyan gave details of the ongoing priority reforms, outlining the opportunities and challenges. He touched upon the promotion of investments in Armenia. The Deputy Prime Minister said an EU-Armenia investment forum is expected to take place in Europe in 2020.
The interlocutors discussed issues relating to reforms in education, justice, energy efficiency, digitization and public administration.