Friday, 22 November 2019
Tigran Avinyan meets with Deutsche Bank and Goldman Sachs representatives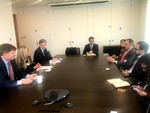 Deputy Prime Minister Tigran Avinyan, who is in London to attend the Eastern Partnership Investment Summit of the European Bank for Reconstruction and Development, met with the investment and corporate executive directors of Deutsche Bank and Goldman Sachs. The meetings discussed mechanisms for financing investment programs, as well as the use of innovative tools for their implementation.
Tigran Avinyan presented Armenia's investment priorities, dwelling on the Government's economic policy and the private sector's great development potential. He presented the activities carried out by the State Interest Fund of Armenia, whose mission is to manage large state investment projects. In this context, new approaches to implementing investment projects through the State Interest Fund were discussed, including through the issue of Diaspora bonds.
Sharing their experience with the Armenian Deputy Prime Minister, the Deutsche Bank and Goldman Sachs representatives spoke about the advantages and possible risks inherent in the use of the proposed financial instruments, and expressed interest in cooperating with Armenia.
The parties agreed to exchange information and outline further steps for cooperation in specific areas.